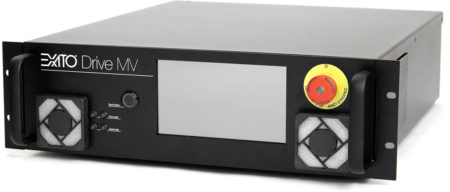 The Exato Drive MV is a universal variable-speed motor control system. With support for a wide standard AC motors and incremental encoders, the Exato Drive MV-series is ideal for simple machine control, retrofitting existing equipment, and permanent installation.
As the economical variant of the Exato Drive MX servo drive, the MV-class inherits the exact same rackmount form factor and connectors. It supports external safety devices like ultimate limits, external emergency stop control with the Exato STO Bridge, and group position monitoring. All components have been selected so the Exato Drive MV meets the UL508 standard, and its emergency stop capabilities are rated for use in a SIL3 system. Any machinery designed for the MV-class VFD drive is already compatible with the MX-class for easy upgrading.
All standard M-series drives include a dedicated wind-tunnel cooling system for the braking resistor, flexible brake and safety IO options for machine builders, high ambient temperature tolerance, and extremely quiet ventilation exhausted to the rear of the enclosure with user-washable filters.
MV-class standard features include:
Exato Axis Connector that carries machine power, brake power, on-board 24V logic power, encoder feedback, Exato Machine Identifier feedback, and limits.
Touch screen & motion enable button for safe local machine jogging and configuration.
External emergency stop input, for integrating with the Exato STO Bridge or other SIL3-rated emergency stop / safe torque off (STO) controllers. Includes built-in bypass switch for operation with XaStream STO control only.
RJ-45 Ethernet / EtherCON connection for central cueing & configuration with Exato Server & Interfaces.
Incremental 24V encoder feedback, with tested support for cable distances up to 100 m (328 ft) over 26-22 AWG shielded cable.
MV1-11
MV1-23
MV1-43
MV3-23
MV3-43
Mains power
single-phase
120V AC
15A
50/60 Hz
3-phase
208V AC
15A
50/60 Hz
3-phase
400V AC
15A
50/60 Hz
3-phase
208V AC
25A
50/60 Hz
3-phase
400V AC
25A
50/60 Hz
Continuous motor power
1.1 kW
1.5 hp
1.1 kW
1.5 hp
1.5 kW
2 hp
4 kW
5 hp
4 kW
5 hp
Power connector
Neutrik TRUE1
L21-30
L22-30
L21-30
L22-30
Idle noise level
20 db
20 db
20 db
20 db
20 db
Maximum operating noise level 1
24 db
24 db
24 db
33 db
33 db
1 Maximum noise level with continuous dynamic braking for heavy inertial or lift loads and high ambient temperature; actual noise level may be less depending on ambient temperature and drive usage.
Contact us to order from the Exato Company or one of our partners.